Dream.Discover.Grow
A welcoming place that reflects the diverse needs of the community...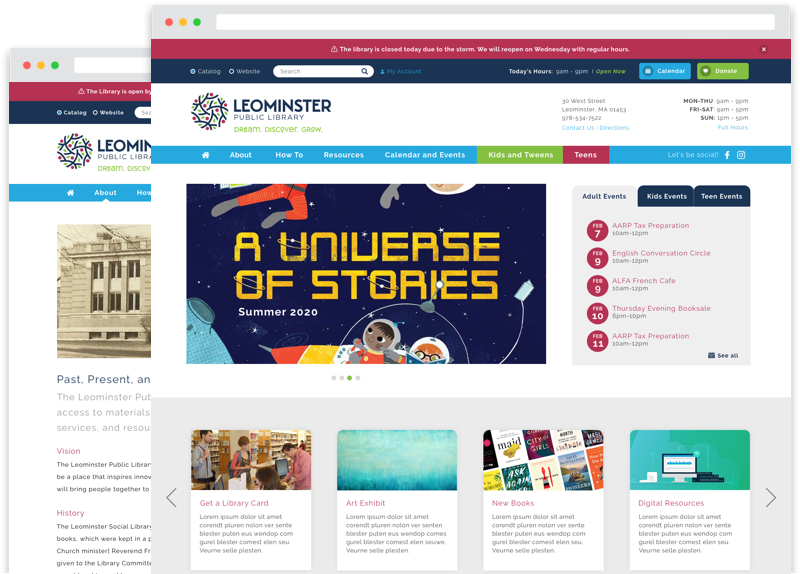 Background
The Leominster Public Library serves as a gateway providing free and equal access to materials, information and technology. The Library delivers programs, services, and resources to enhance the quality of life for the community.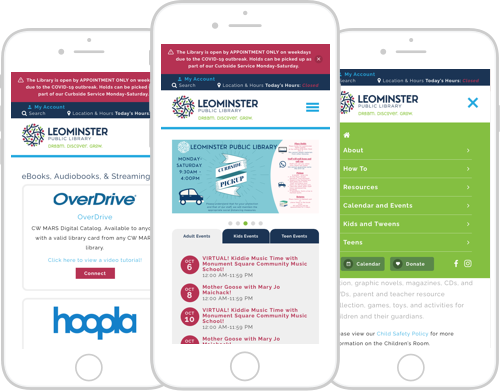 What We Did
It had been many years since the previous Leominster Public Library site had been built. A lot had changed on the Web since that time and we wanted to make sure that the new site would be modern yet simple. We worked closely with Leominster staff to prioritize the information that is displayed "above the fold" so that the most important content is available without overwhelming the user.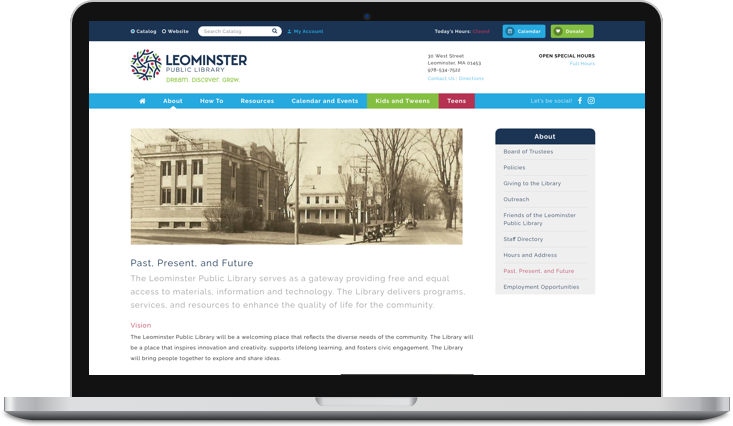 Results
The new Leominster Public site has a lively new color scheme, a responsive design and a host of new features. The site boasts a COVID-based, special hours widget, emergency alerts and an "Open Now" widget all built with the Craft CMS so staff can easily make updates. The kids and teen sections of the site have unique color schemes that are distinctive yet consistent with the overall design. The site's modular design includes many pre-styled page elements that can be dragged and dropped into position allowing for great flexibility with multiple content types.
Visit Site
Features
COVID-based special hours widget
Open Now widget
Emergency Alerts
Staff Directory
Distinctive color schemes for Kids & Teens
Catalog/website search toggle
Praise
Jim and his team responded quickly to all suggestions and exceeded expectations on all fronts.

The team at Clearpeak worked with us to completely redesign and modernize our website in a way that is user friendly and does all the we require and more! We now have a site that is easy to navigate, mobile-friendly, and customizable for whatever may come.
Jim and his team responded quickly to all suggestions and exceeded expectations on all fronts. No request was too big or too small. They've even worked with us after the project was completed to provide additional support as needed. We highly recommend them! Nicole Piermarini, Acting Director, Leominster Public Library
Some Of Our Clients
Acton Memorial Library
Andover Newton Theological School
Atlanta Pediatric Research Alliance
Backyard Farms
Boston Athenæum
Beacon Consulting Group, Inc
Boston Center for Jewish Culture
Boston College ITS
Boston College Physics
Boston History Collaborative
Children's Advocacy Center of Suffolk County
Colonial Society of Massachusetts
Consortium of Universities for the Advancement of Hydrologic Science
Concord Free Public Library
Diabetes Camping and Education Association
Eldredge Public Library
Emory University
Falmouth Public Library
Framingham Public Library
Gay & Lesbian Advocates & Defenders (GLAD)
Groton Public Library
Harvard Dental School of Medicine
Harvard Distance Education Program
Harvard Graduate School of Education
Harvard University Extension School
Harvard Summer School
Independent Curators International
Landmark College
Longyear Museum
Massachusetts Eye & Ear Infirmary
Massachusetts Historical Society
Northeast ALS Consortium
Public Library of Brookline
Sturgis Library
Tuck School of Business at Dartmouth College
Worcester Talking Book Library
Are we speaking your language?
If you think we sound like a good fit we'd love to hear from you. Drop us a line so we can learn more about your project.
Get in Touch