Diversity.Empathy.Harmony
An exciting new site for the Boston Children's Chorus.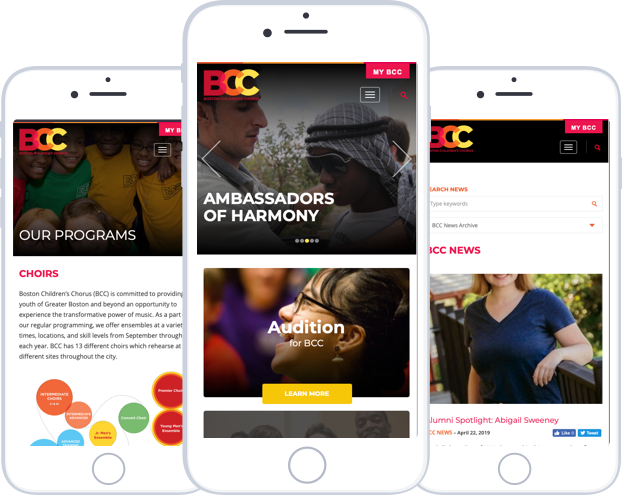 Background
Boston Children's Chorus (BCC) harnesses the power and joy of music to unite our city's diverse communities and inspire social change. BCC singers transcend social barriers in a celebration of shared humanity and love of music.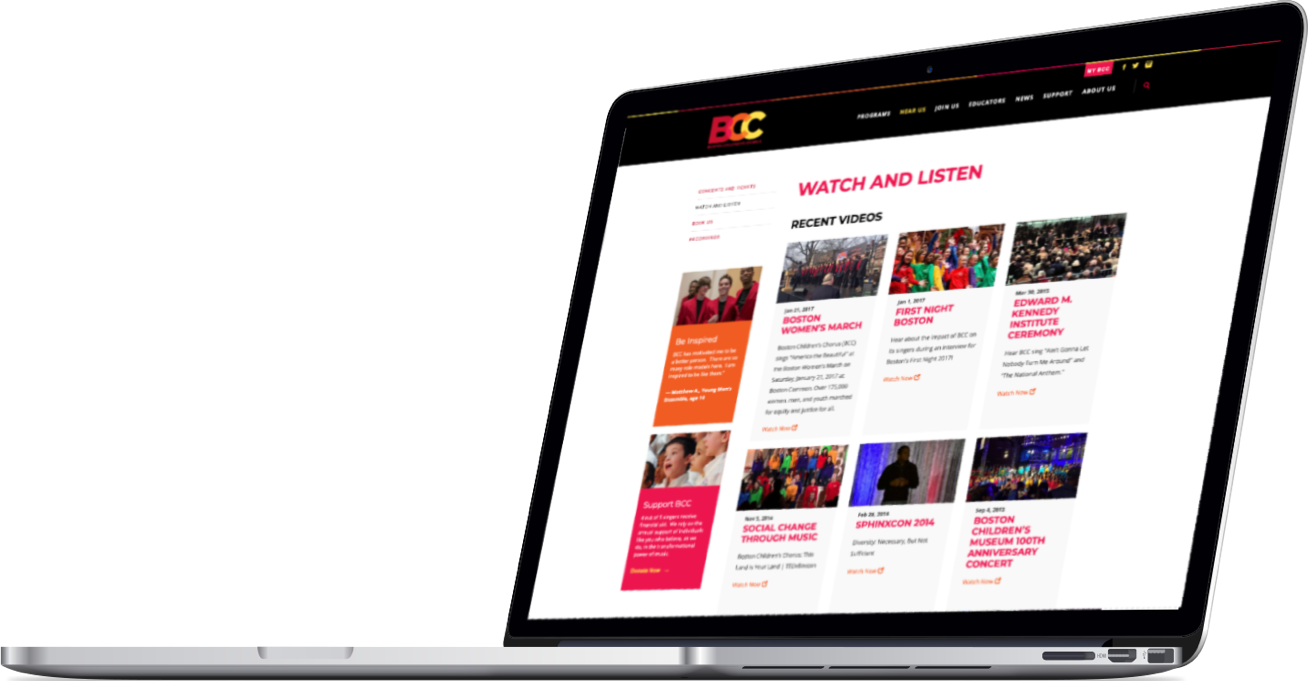 What We Did
A lot had changed at the Boston Children's Chorus and on the Web in general since their last site had been built. We began by completely reorganizing the site and creating a navigational structure that made sense for the BCC today. The result is a fun, lively site with lots of photography and a responsive design that looks great on all devices.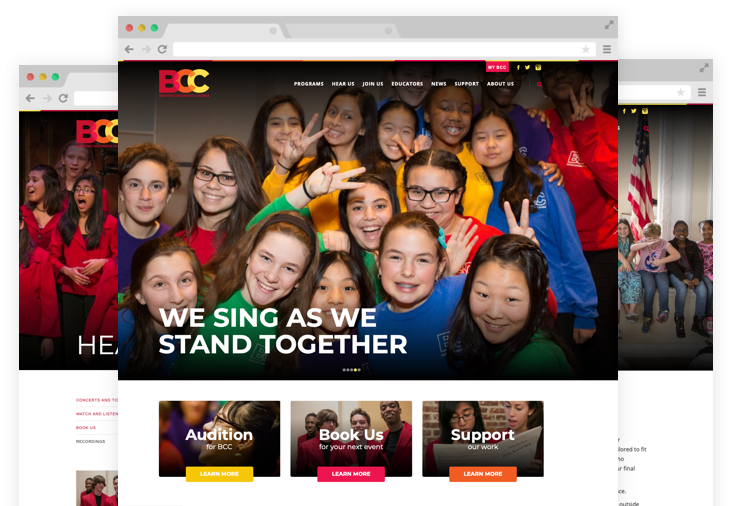 Results
Besides a great new look, and responsive design the site boasts a secure "My BCC" portal that allows staff, singers and parents to login and share documents, check their calendars, complete forms and get timely information. The site also contains many photos and recordings and allows users to purchase tickets online.
Visit Site
Features
Events Calendar
Blog
Secured "My BCC" Portal
Media Library
Audition Forms
Job Board
Praise
Working with Clearpeak was great!

They were very flexible and patient when our project took longer than planned. Their work was meticulous and they were great communicators. We highly recommend them! Ben Hires, Director of Programs, Boston Children's Chorus
Some Of Our Clients
Acton Memorial Library
Andover Newton Theological School
Atlanta Pediatric Research Alliance
Backyard Farms
Boston Athenæum
Beacon Consulting Group, Inc
Boston Center for Jewish Culture
Boston College ITS
Boston College Physics
Boston History Collaborative
Children's Advocacy Center of Suffolk County
Colonial Society of Massachusetts
Consortium of Universities for the Advancement of Hydrologic Science
Concord Free Public Library
Diabetes Camping and Education Association
Eldredge Public Library
Emory University
Falmouth Public Library
Framingham Public Library
Gay & Lesbian Advocates & Defenders (GLAD)
Groton Public Library
Harvard Dental School of Medicine
Harvard Distance Education Program
Harvard Graduate School of Education
Harvard University Extension School
Harvard Summer School
Independent Curators International
Landmark College
Longyear Museum
Massachusetts Eye & Ear Infirmary
Massachusetts Historical Society
Northeast ALS Consortium
Public Library of Brookline
Sturgis Library
Tuck School of Business at Dartmouth College
Worcester Talking Book Library
Are we speaking your language?
If you think we sound like a good fit we'd love to hear from you. Drop us a line so we can learn more about your project.
Get in Touch